A little over five months ago, on February 24, the lives of millions of people in Ukraine suddenly changed.
Russia has invaded the country and has called it "a special military operation."
Normal life was turned upside down and people were torn between whether or not to leave their homes.
Journalists used to working on long reports, social issues, and entertainment stories became war correspondents and editors overnight.
When the website Babel.ua was launched in 2018, it resembled an online magazine.
But when war broke out, everything changed for the Kyiv-based collaboration of independent journalists.
Babel editor Anton Semyzhenko said: "We understood that our work is needed like never before because people really need information. They are vital to their survival since war broke out, war at full scale.
"Everything changed because people needed to see where the airstrikes are, where the Russian forces are, how many resources they have, what will be the next source of danger and how to make yourself safer."
Their readership has never been greater, he said.
As a relatively young collaboration, Babel thrived and the promotion did well. This income collapsed when the war started. Now the company is more reliant on grants and reader donations.
Mr. Semyzhenko is the head of the English version of the website. He hoped it would reach a larger audience and boost reader donations, since the people of Ukraine were "not getting richer" and had other financial priorities, "like donating to the army."
He is currently praising the commitment of journalists in Ukraine.
"You are brave. You forget how to sleep. They forget how to eat," said Mr. Semyzhenko.
Before the invasion, Mr Semyzhenko was a reporter touring the country, but he switched to an editorial role to more effectively compile more information for the live updates.
Originally from Kherson, which is currently occupied by Russian forces, he is now based in Kyiv, so he did not witness the attacks or counter-attacks in his home region.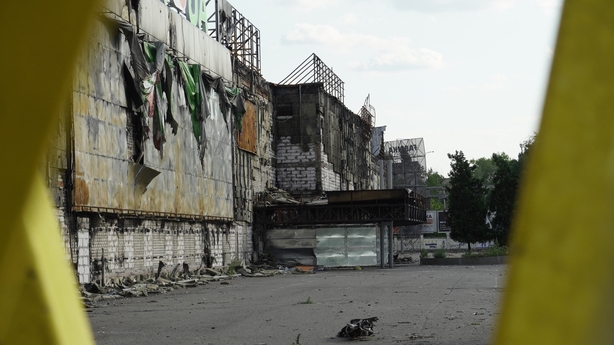 However, he can describe what it was like when Russia advanced on the capital.
"I heard it when I was in Kyiv in the first days of the war. It has definitely been heard by everyone. But I didn't see any fights," he said.
Mr. Semyzhenko helped his relatives escape from Kyiv when it was threatened by Russian occupation early in the invasion. They went to a small village near the Romanian border with a view of the Carpathian Mountains from the backyard.
"It was a tiny village with wooden houses, dirt roads and horses. But the cellular connection was good enough to stream videos and do whatever needs to be done," he said.
Mr. Semyzhenko decided that with fewer sirens and interruptions and a good internet connection, he could work better there than if he stayed in Kyiv.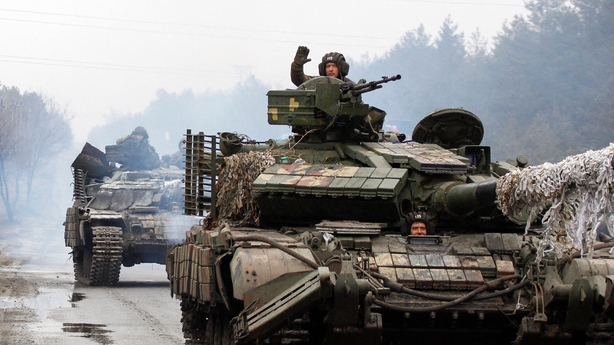 He worked around the clock, seven days a week, without distinction between day and night, and was gratefully fed by his relatives, with whom he stayed until mid-April.
"I don't remember anything, almost nothing, from that period. And it's common that most Ukrainians don't remember spring, firstly because of stress and secondly because of constant work," he explained.
"It was like a giant anthill trying to survive and defend itself.
"At first we didn't think the war would last months, but when we then realized that this is a long story, we understood that it's better to have a more sustainable schedule."
In those early days, Babel's social media manager, who lives outside of Kyiv, found herself in a worrying scenario under Russian occupation.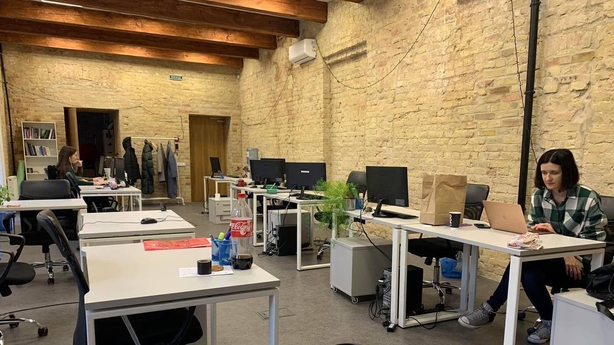 Her village was taken fairly quickly, so she lived in a basement with no electricity and constant shelling for two weeks.
Once a day she tried to escape to the yard to get a cell phone signal to text or call her co-workers to let them know she was safe.
She fled to the Czech Republic before returning to Kyiv, where, after settling down, she shared her experiences with her colleagues on a podcast.
"So we all knew a lot more details about how the Russians behaved and how it was for them. Fortunately, she survived because many, many people from her village didn't," said Mr. Semyzhenko.
From the first day of the war, a bar in one of the central districts of Kiev became the editorial office of the Babel team. Mr Semyzhenko revealed that the bar's basement is classified as a bunker by international standards, as the building used to belong to a western embassy.
Employees said as shells and explosions were nearby, they only became aware when paint fell from the ceiling due to the blasts. They could continue to work underground.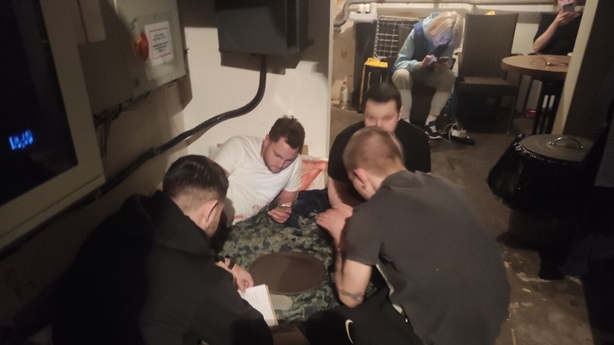 This is where the company's editor-in-chief moved in with his dog. There was a room full of mattresses and about 16 people slept there.
While there was no market for cocktails, bar staff and journalists prepared hundreds of food rations for the Territorial Defense Forces, usually mashed potatoes with chicken thighs.
Like Mr. Semyzhenko, another Babel editor, Yuliana Skibitska, hails from a region directly affected by the war.
Zaporizhzhia is partially occupied by Russian troops and some of the villages where she spent her childhood have been destroyed.
Ms. Skibitska has lived in Kyiv for almost ten years, but her whole family remains in Zaporizhia.
This is not their first experience of war. In 2014, when she was 22, Ms. Skibitska went to the Luhansk region, where the war had just started.
"By then, part of the region had already been liberated from Russian and Separatist troops. And fierce fighting took place in the other part," she said.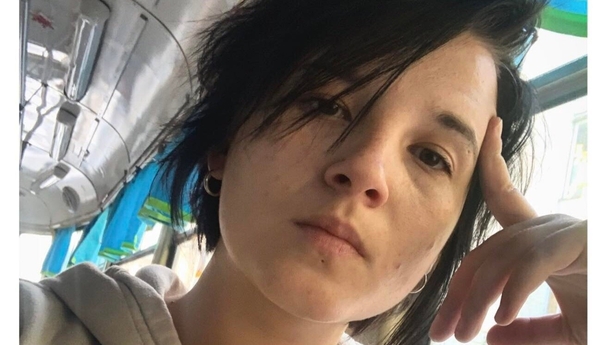 Although she had previously worked on the front lines, Ms Skibitska stated that she would be reluctant to return.
"I have experience with such works, but the situation is very different now than it was in 2014. I'm not sure if they won't kill me," she said.
Ms Skibitska said it was only when she was working on an article about captured areas in the Kyiv region, including Bucha, Irpin and Borodyanka, that she realized how great the danger was and the cost Ukrainian troops are paying to stop the Russian offensive .
A war veteran who defended Bucha in February has witnessed the entire war in the east since 2014 but said he had never witnessed anything quite like what happened in the Kyiv region.
"They hit with all the grenades, it was a hail of fire. I thought: if I show my hand, it will be cut off," Volodymyr Shcherbinin told her.
---
Latest stories from Ukraine
---
In the reclaimed villages in the Chernihiv region, Ms. Skibitska helped demolish houses destroyed by shelling.
"A local woman told me how a drunk Russian soldier threatened to shoot them all," Ms. Skibitska said.
"Others told how Russian soldiers in the village of Yagidne forced all residents to live in basements for almost three weeks.
"A local said they did it so locals wouldn't intervene in looting. His friend was killed by the Russians because he shouted 'Glory to Ukraine' when he saw tanks in the village."
Covering the war 24/7 can take an emotional toll on the team. Management prioritizes the safety of their employees above all else. And when someone needs a break from the notebook, they're encouraged to take a break.
Correspondent Kamila Hrabchuck said it was particularly intense in February and March as she tried to keep up with everything that was happening.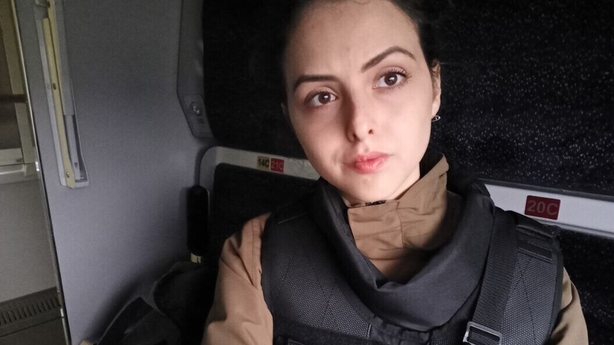 But now she feels the intensity when she works in eastern Ukraine, where active fighting and widespread shelling continue.
Ms Hrabchuck has shared stories of life and death in the Donetsk, Luhansk, Dnipropetrovsk and Kharkiv regions and previously in the Kyiv region.
"Where it is more dangerous, adrenaline helps. But when I'm relatively calm for a few days, in Kyiv or in Dnipro, it becomes more difficult emotionally," Ms Hrabchuck said.
"I want to cry for a long time because I held back for a long time before. I also feel like I get more aggressive and nervous after such business trips.
"But a few days of good sleep and quality time – and I'm back to normal," she explained.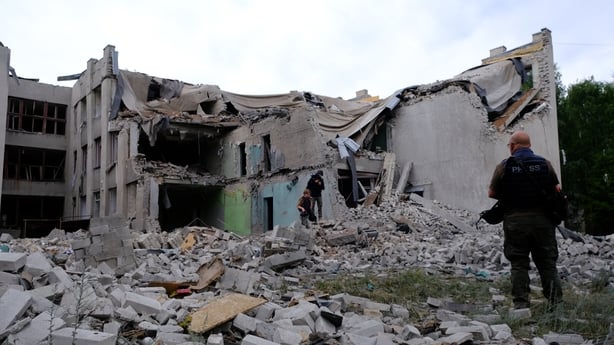 Since the withdrawal of the Russian armed forces from Kyiv, the team has been working from its editorial offices again.
However, despite the return to normality in the capital, editor Anton Semyzhenko is always aware of what is happening at the front through his work, so he always remains cautious.
"One or two air raid alerts a day is like a no-brainer. Yes, missiles are still falling, so you can't feel completely safe, you always have to be on the lookout for some sort of attack. I'll always know where the nearest shelters are when I go to a coffee shop," he said.
"The other day when I went to the cinema, it was in a basement. But if not, I would have looked at local shelters to feel safe.
"Nevertheless, I was in a movie theater and was able to rest, watch a movie, and stay away from the shells."