HAWARDEN—First grade students at West Sioux Elementary in Ireton helped put together a project at the Prairie Woods Nature Center north of Hawarden. The students created 48 pieces, to be precise, which are part of the 675 total tiles that make up the 5′ x 15′ mosaic mural at the building's entrance.
"It was a labor of love for our staff and our volunteers to create and offer this project, but it was so rewarding," said Sarah Davelaar, Sioux County naturalist. "We are already planning for next year."
The mural depicts seven animals, three of which are babies. The backdrop is a habitat found in Oak Grove Park in spring.
However, the students only had 4 x 4 inch portions of the image.
Tiles from the mural, rather than specific sections, were divided among schools interested in participating.
"We wanted an element of mystery, something that makes the kids wonder what they're working on and what the final image might be," Davelaar said. "We gave them some pointers but it was so great to see the excitement of the kids in May when many of them stopped by on field trips to see what their whole project was like. About every kid has tried chasing the piece they made.
This project, co-sponsored by the Sioux County Conservation Board and the Sioux County Conservation Foundation, grew out of a brainstorming session between staff and volunteers this winter.
"We held a Christmas tree decorating contest for the schools in December to raise funds and encourage Sioux County families to come to the nature center," Davelaar said, noting that this was and will be open to fourth and fifth graders will be extended to third grade next year. "As we considered the foundation's mission of how to continue to engage county residents beyond programming Sioux County Conservation offerings, we wanted to come up with an idea that might be appropriate for the lower classes."
Because these classes vary in difficulty, the focus was on coming up with an idea that could be simple and that the students could get excited about.
"A volunteer came up with the idea of ​​doing a collaborative mural — it's a big thing for a lot of people to work on — and it could offer an element of mystery because students could work on a piece of it," Davelaar said.
Conservation workers and volunteers worked together to develop the mosaic mural using a paint-by-numbers approach. Davelaar designed the image using only 11 colors that corresponded to a specific number. The students then had to cut out pieces of paper and glue them to the white areas of the tile while trying to leave the black lines, if any, visible.
"We chose to have students use paper because every student in that age group can cut and glue, which is a fine motor skill they work on in school," Davelaar said. "The color didn't seem right because we didn't want the project to be too messy for the teachers and we wanted the colors to remain consistent across the mural."
Davelaar said the tile size of 4″ x 4″ was chosen "so that multiple kids could work on one tile if needed, which we've seen from some schools like Kinsey Elementary where they have a lot of kids in those lower grades that used them." it as an art project and had several kids work on each tile."
The schools received their wall materials – strips of paper and thick paper tiles with a piece of the mural – in March and were asked to finish the tiles and return them to the nature center by May. Nine of the 11 schools returned their tiles to the nature center in time to complete most of the mural before the school field trips took place. The final two schools submitted their tiles towards the end of May and helped complete the mural by June.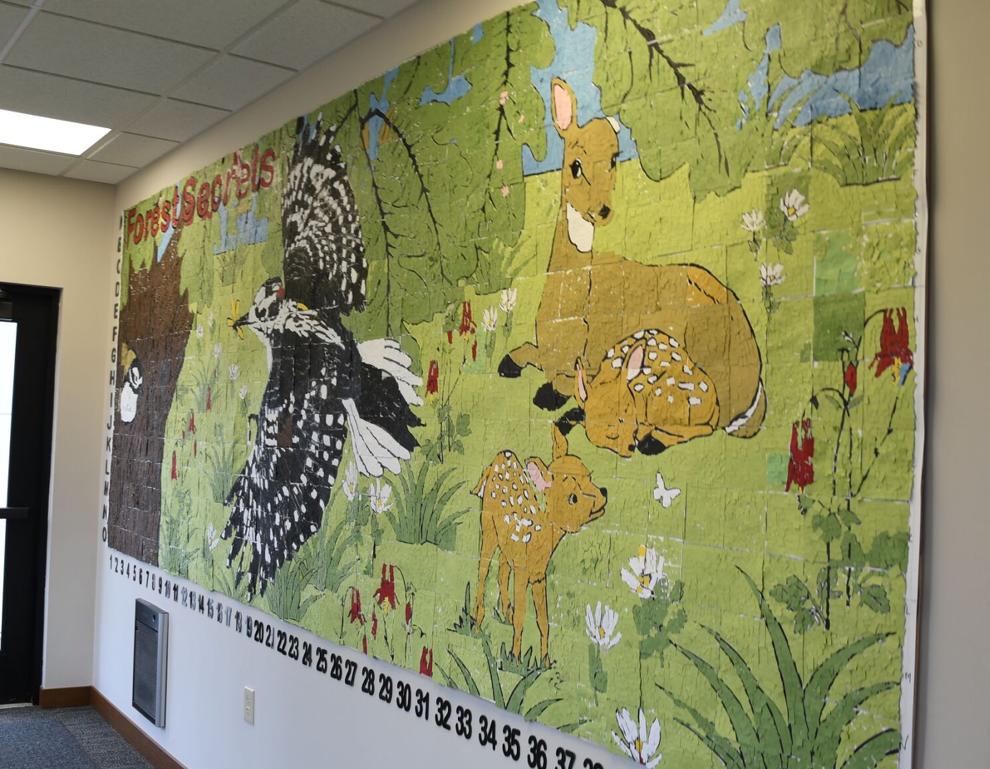 This mural will be on display for a year before being replaced by a new student-made mural next year.
"We want to have something fresh and new every year, something that will bring the kids and families back to see their project," Davelaar said. "Next year we hope to start earlier in the winter and have the mural ready by early May. This year it took about three weeks from the idea to the delivery of the materials to the schools. You have done such a good job; We can hardly wait for next year."
ATTENDEES:
38 tiles was a second year student at Boyden-Hull Elementary School in Boyden.
38 tiles made by Kindergarten and Second Formers at Hull Christian School.
43 tiles Made by second graders at Hospers Elementary in MOC-Floyd Valley.
65 tiles made by first and second graders at Orange City Christian School.
77 tiles Made by Kindergarten by second graders at Rock Valley Christian School.
77 tiles Made by first and second graders at Rock Valley Elementary.
85 tiles made by Kindergarten by second graders at the Dutch Reformed School in Rock Valley.
48 tiles made by first and second graders of the Sioux Center Christian School.
142 tiles made from transitional kindergarten through second grade at Kinsey Elementary School at the Sioux Center.
14 tiles Made by Kindergarten by second graders at Spalding Catholic School in Alton.
48 tiles made by first years at West Sioux Elementary in Ireton.
675 tiles total
WALL SECRETS:
Sioux County naturalist Sarah Davelaar designed the student-made mural at the Prairie Woods Nature Center, which incorporates various elements from Oak Grove Park. Here's a closer look:
bloodroot – a small white flower that only blooms for a day or two before disappearing.
Wild Columbine — a red flower that blooms in our forests in May.
A baby woodpecker – hidden in their cave nest, mum and dad feed it insects. Hairy woodpecker parents are easily identified by having red (father) or no red (mother) on the back of their heads.
goldenrod gallfly — lays her eggs in oak leaves. The leaf responds by forming a flaky pink gall.
fawns – Baby deer use their white spots to match the sunspots on the forest floor. They lie motionless to avoid predators.
Loppy – Oak Grove has an iconic one-eared mother cow that is often seen from Turkey Ridge Campground.