JOan Bakewell sees David Attenborough from time to time. He only has one question for her: "Are you still working?" And of course she is. When we meet for lunch, she's just beginning her fifth series of Landscape Artist of the Year for Sky-"baking with oils" – which she sees "galloping across the country" from Loch Fyne to Broadstairs. She works 12-hour shifts, starting at 7 a.m. – "by 7 p.m. they know I'm ready for a drink". She is also in the House of Lords two or three days a week when it is in session and is President of Birkbeck, University of London. And then there are always new committees to lead, to write books. One of the reasons Bakewell has long been such a seductive voice on the possibilities of aging is that she's never shown the slightest interest in moving beyond it.
She storms into her restaurant of choice, The Orrery on London's Marylebone High Street, already full of conversation and a smile as she sits down after doing some shopping at the Conran store downstairs. The Orrery has the decor of a Dignitas clinic, white and muted, with good linen and sharp cutlery and immaculate glassware, but Bakewell brings a life-affirming attention to it. She's, you forget, 89. She orders exactly – mozzarella for starters and salmon fillet, water – and then it's back to business, lunch, conversation. Before our starters arrive, we chat about the voodoo nature of Nadine Dorries ("she sticks needles in things she doesn't like"), the leadership prospects of Andy Burnham ("very impressive personally"), food fads ("I' m finished with sourdough, give me a nice sliced ​​white bread"), the similarities between Liverpool in the 1960s and Quattrocento Florence ("Creativity Became Contagious") and the little pot of cod liver oil and malt that Bakewell always keeps in a drawer to remind her of stolen comfort spoons during rationing.
What keeps her going, what makes her happiest, she says, "is that wonderful word 'freelance.' When I came to the BBC in the 1950s, the second week they discussed my pension," she recalls. She didn't like the sound. "I discovered that there was such a thing as a freelancer" – she invests the idea in the notion of knight-errant rather than gig economy – "and that's what I wanted to be. Because I wanted to take my life into my own hands."
That spirit — the determination not to be her mother, who left school at 13 to take care of her seven siblings — never left her. It is the principle of her latest book, The ticking of two clocks, which examines her preparations for what she calls "deep old age." They quickly discover that their plans are not the kind of plans that might trouble most of us. Ever since she appeared on television in the 1960s, Bakewell has seemed to exist on a level slightly above the ordinary. Her thoughts about not gently going into the long good night are no exception. Her fears involve selling her five-storey Georgian home in Primrose Hill, north London – bought for a few thousand pounds, sold for a few million 50 years later – and moving to a small enclave of Victorian artists' studios around the corner. In doing so, she makes the downsizing induced by a hip replacement seem like another sophisticated adventure, made possible in part by her new neighbor, writer Andrew O'Hagan, and in part by a team of helpers, most notably a woman named Fliff, who is helping her For the rest of your life, declutter rooms full of books and walls full of paintings.
You don't begrudge her these elevated concerns—she's always been a soldier and a force of civilization—but sometimes the words "enchanted life" spring to mind. Now, when she recalls the move over lunch, she refers a couple of times to "my little crisis or breakdown," which describes the hour or two she had to sit down and collect herself amidst packing boxes as one Soup tureen fell off A dish inherited from her mother was smashed. The incident reminds me of a sentence Nicci Gerrard once wrote about Bakewell observera few years after the full details of Bakewell's long affair with Harold Pinter emerged: "Even when she behaved badly, she behaved well."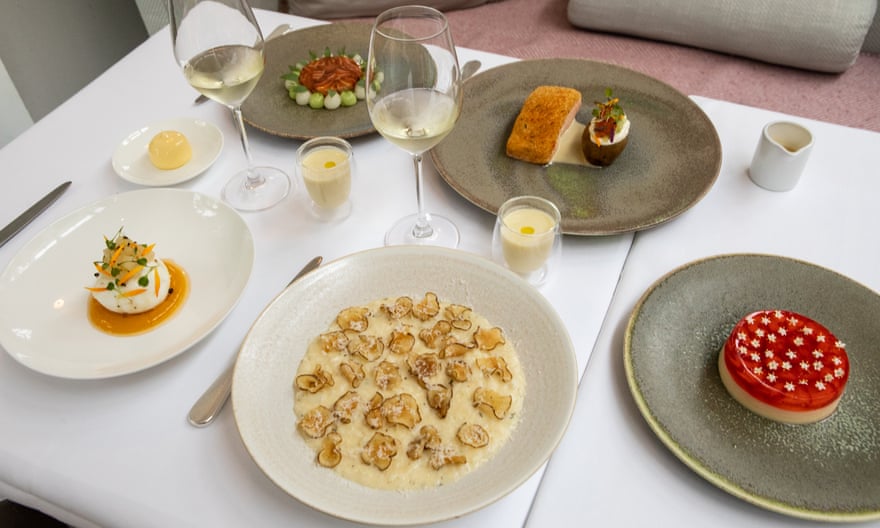 Finding universal wisdom in these personal experiences has always been her gift. Despite the windfall at its core — "I'm well aware of how grossly unfair it is" — her book has interesting things to say about loneliness and community. Raised as an 'emerging lower-middle class' in Cheshire – her father was an engineer, her mother a bitterly unfulfilled housewife – Baroness Bakewell of Stockport was freed – intellectually, socially, sexually – from the intimacy of Cambridge colleges. With this principle, she discusses the ideal retirement – ​​"I'm very much in favor of small units, built around squares, with trees and small paths" – which she has campaigned for as the newly appointed poorhouse association ambassador.
Covid has brought clarity to this ideal. Bakewell has been married twice — "17 and 25 years apiece" — and has two children and six grandchildren, but for the past 22 years she has lived alone (she titled her autobiography The middle of the bed, one of the more unforeseen outcomes of a life of pleasure). She hadn't moved long when lockdown kicked in and was considered "vulnerable" by all appearances. O'Hagan and her other neighbors came to her rescue. "Andy said, 'We're going to cook one day and bring a meal over. And you cook the next day and bring the food over to us.'" That exchange of hot food at the garden gate got her through.
In characteristic style, she could not be confined a moment longer than necessary. As soon as the restrictions were lifted, she and a friend took the ferry to Calais and cruised up the north coast of France, staying in B&Bs and eating in small cafes. "We really wanted to break out," she says. Since then there have been trips with her daughter, an art historian, to the galleries of Bologna and Ghent to see the Van Eyck Altarpiece. Her only fear was that she would lose articulation in her voice because she didn't talk to anyone much. Her very Bakewellian remedy was to study and recite Shakespearean sonnets every morning.
"Especially in the last year or two, I feel like I've lost some of my feeling for the language," she says. "Often I'm reading an article and I have to look up a thing or two, new trending words." It's been two years since she finished The tick of Two clocks and she's itching to write something else to help clarify what she thinks about the "murky post-Brexit world". "I can't write in the afternoon. But nothing better in the morning. Make plans, write a few paragraphs, sort ideas, and then move on… that's my idea of ​​bliss."
She seems so present and curious about the news that her long past hardly gives a glimpse as she clears her plates. I jotted in my notebook a few phrases from Pinter's love letters that she recently donated to the Bodleian Library: "Joan. The first time I wrote your name. Johanna. Johanna. Johanna. Johanna. Could fill the pages with it" and "Your eyes… Everything you do. secret girl I can't speak, just look," but it's she who addresses the affair, which lasted seven years and was the subject of Pinter's play Treason. We chat towards the end of lunch about the best of times Bakewell hosted Late night line up in her miniskirt in the 1960s, talking about music with Barbra Streisand and art with Marcel Duchamp. Pinter, she says, was as charismatic as any of them.
"When he was in full swing it was like he was near a blast furnace, he was so smart and intelligent, so funny."
I suggest there is a point in reading memoirs The middle of the bedthat later nothing came close to the liveliness of this relationship. Did it feel like this?
"Not really," she says. "I don't think for a moment that life has gotten duller as I've gotten older. Maybe less exciting. But I find it all compelling in a different way."
How far ahead is she looking?
"Well," she says, smiling at the absurdity, "I'm very interested in getting to 100 just for the sheer number." They have no doubt that if she makes it, a role as the authentic voice of the new centenarians awaits her.
The Tick of Two Clocks will be available in paperback on August 11 (Virago, £10.99). In support of Guardian and observer, order your copy at guardianbookshop.com. Shipping costs may apply