picture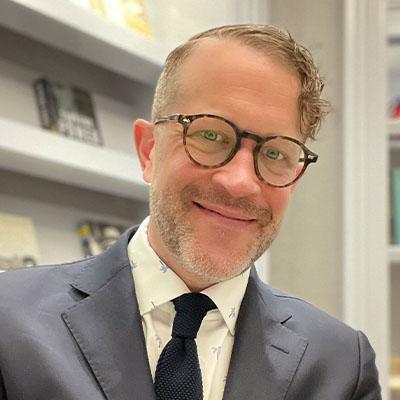 Marketing director and alumnus Richard Bourque draws inspiration for his creative process from his art history degree, strong work ethic and desire to make positive progress in the world.
They have enjoyed a highly successful career in marketing across the arts, fashion, music, business-to-consumer (B2C), business-to-business (B2B) and most recently in education, initially as Vice President at Scholastic and currently Chief Marketing Officer at Educational Epiphany.
What aspects of your professional life are you most proud of and why?
I'm very proud that I've created my own path and focused on the things that have made me happy – which has felt challenging in many ways at many points in my journey. However, I was willing to make that decision to work as hard as I could and stay positive. I didn't want to take traditional business courses; I loved writing and being creative, and I loved being in New York City. I was and still am passionate about art, architecture, food, photography and anything related to the creative process.
As for my work in education, this is the perfect industry for me because I can indulge my passion for helping people and do something that I know will have a positive impact on society and the world at large . Visiting schools in more than 40 states and internationally, I always feel inspired and know better how we can contribute to progress.
Is educational equity something you care about?
Absolutely! Equity and access are critical to helping students become the thought leaders and innovators of tomorrow. If we don't provide access to ALL students – regardless of race, gender, ethnicity, zip code, or learning ability – then we are failing in our job as educators. Children can do anything if we show them what's possible, no matter the challenges they face. We can help by simply giving them access.
You have a Bachelor of Arts in Art History from Pace University. What attracted you to this course and how did you start your career?
I love art and I love to read. I also discovered a deep sense of inspiration from the energy associated with what art and artists bring to the world; there is a sense of urgency, beauty and excitement. I also spent hours in New York reading and studying at the Metropolitan Museum of Art and the Museum of Modern Art. Whatever inspires you, you should do everything you can to follow it and be closer to it!
Career Services at Pace got me an internship at a famous gallery in SoHo called Artists Space. Through this internship I got to know the team interview Magazine. (In the days before the Internet, I always kept a copy of my resume in my backpack. I walked the streets of SoHo and dropped it off in as many places as I could). I got an interview – um interview – and never looked back.
In your opinion, what is the significance of dealing with the art of the past for society?
Wow, that's a great question! In my opinion, the impact of art history is far-reaching. It reaches every corner of the world and every society. Artists have designed many of the buildings we work and live in, created the vehicles and transportation systems we use, and covered the sides and walls of the buildings we work and live in. So the art of the past has a profound influence and impact on how we all live today.
This willingness to try, this willingness to work hard, to discover new things and to show yourself, that's what drives people like me and us.
How did studying art history prepare you for your career in marketing? Do you have any thoughts on the value of a liberal arts education?
Marketing is about learning. If you don't learn, you're not relevant in marketing. You need to be one step ahead of your customers and understand them and their buying behavior. My study of art history has given me a different approach to situations and challenges at work. I always had a good idea to support a sales team, write messages for a campaign and approach data in a unique way. This has helped me stand out and, over time, garnered the attention of my superiors.
I believe that a liberal arts education has so much value when it comes to thinking outside the box and solving problems in your career. In business, at least in my experience, there is often a need for a creative solution to a problem. If you do this and learn to be proactive and diligent, you can be successful.
Why did you decide to enroll at Pace University on the New York campus?
I really wanted to be in New York, and I wanted to be in a school where I knew my classes would be smaller. I also liked the opportunity to be in Pleasantville and/or on the New York campus.
Were there specific faculties that made a significant contribution to your academic and/or professional development?
Definitely Professor Lisa Farber. She is the person who has influenced me the most, who has pushed me to do my best and who has encouraged me to think differently. She taught about the value of hard work and how to overcome some of the challenges of living in a big city and breaking into highly competitive fields like art and publishing.
College is a momentous time in a person's life. Looking back on your time as a Dyson student, how has it influenced you in becoming the person you are today?
My time at Dyson has had a profound impact on my life. I met so many great friends and people, made contacts and learned so much from my professors. It's tough being in the city when you're 20 years old. I had three jobs and went to school like many of my friends. But this willingness to try, this willingness to work hard, to discover new things and to show yourself, that's what drives people like me and us. We all had goals and we did everything as a group to achieve them.
What challenges have you encountered along the way and how did you overcome them?
I face challenges in life and work just like everyone else. I was around people with MBAs and business degrees who often didn't take me seriously, and I had to work hard to earn their respect. I've been turned down for many marketing jobs but this only made me more grateful and focused on all the jobs I got. I got to know the teams in cross-functional departments, I did everything I could to build relationships with internal and external partners, and I knew how lucky I was to get these opportunities, so I didn't take them for granted. You will always have people talking about you, judging you for some reason; But if you focus on what's really important and stay focused on your goals and what's good for you and your family, then good things will come.
What advice would you give our students as they navigate college life?
Do you! I know this sounds cliche, but I'm telling you that there is a place for you – for all of us – in this world, and you are unique and talented in your own way. Make friends, network, stand out and stay focused. Work as hard and as smart as you can. And step out of your comfort zone; that's when the magic happens as you meet new people, discover new perspectives and learn, and you will find the "thing" or "idea" that will shape your bright future! You can do it!