content of the article
Have you ever taken an art class? Painting, sculpting, singing, dancing, writing or basket weaving? Then you know that the joy and laughter of the creative process is best enjoyed in the presence of other fellow learners.
content of the article
That's why classes of people can have such a great time, encouraging one another, gently teasing, and exchanging ideas while watching the talents of others develop.
One of my favorite things in life is singing in a choir, where you challenge each other to sing in unison or harmonically rather than disharmony to achieve beautiful performances that bring joy to all who participate or listen, as does all is art.
Imagine the joy of creating in partnership with someone you first met on your school bus years ago, and then being able to rekindle your friendship to spark a whole new phase in your artistic process. Well, that's exactly what happened recently to two former students of West Elgin Secondary School, both of whom I've had the privilege of meeting while at the school. Two creative minds have come together to create a wonderful, wonderfully whimsical children's book that is a treat for the eyes and ears. My grandchildren all have a copy and already love it.
Art Brings Friends Together is the work of author Kasandra (Langevin) Coleman and artist Kristyn Watterworth. I only recently reconnected with Kasandra, but Kristyn has been a friend of the Schneider family for years. We are fortunate to regularly visit her Kryart Studio (check out her work on Facebook) in Bayfield over several summers and have beautiful paintings from various stages of her creative journey adorning the walls of our homes.
content of the article
Kasandra Coleman was born in Middleton, Nova Scotia and has three brothers. When she was eight, the family moved to Ontario, eventually settling in West Lorne. She now resides in Fergus with her two children, Dakota and Cheyenna, and supportive husband Scott.
When Kassandra isn't writing children's books, she runs her home daycare and goes to school to become an accountant.
Kristyn grew up on her family's farm in West Lorne with parents Don and Pat and brothers John and Craig. Kristyn's initial entrepreneurial endeavor was to paint tiny cars with nail polish in 1st grade and sell them to her classmates. Since then, she's been finding ways to bring more color to the world. She went to York University to get her BFA and opened her studio gallery in Bayfield in 2004.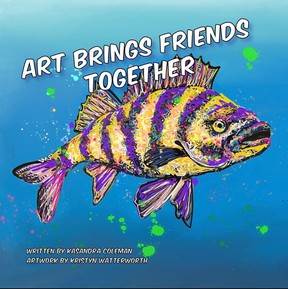 In 2018 she spent a year exploring New York City and currently resides in Toronto, Ontario with her baby and wife Pam Hrick.
Kristyn's art appears in many public spaces as well as people's homes, and she is currently painting her creations on a silo.
Kasandra found out about Kristyn's amazing artwork and started following her on social media because she loved what she saw online. She soon bought a few prints for her children's rooms and then commissioned them to paint a painting of her children. Children. Enchanted by the paintings, Kasandra began imagining scenes and dialogues she shared with Kristyn. What started as a joke led to her writing stories for Kristyn's website, and she soon proposed the idea that she and Kristyn create a children's book together. Both wanted it to be inclusive, in an "urban wilderness" populated by different animals living in harmony.
content of the article
Kasandra calls Kristyn her inspirational muse, and her multiracial background and experiences have pushed her to foster a universe where "differences" don't matter.
These creative partners want to reach many, many children to share this inclusive, joyful vision of acceptance and understanding.
Dawn Stilwell has been incredibly helpful to this creative duo with their business that helps people self-publish called The Publishing Shop.
Featuring wonderful characters and bright, vibrant imagery, Art Brings Friends Together is available online at: https://checkout.square.site/buy/XNCOP6OP5K5ZKWGCVNAU24OI and will be available soon at multiple local locations to be arranged. It is also available on Amazon.