NFTs open up new possibilities and opportunities for artists that the traditional art world has never offered.
With the advent of technology, a new art ecosystem emerged, free from many of the structures that artists typically navigate to reach an audience, let alone succeed. Crucially, blockchain leveled the playing field, and suddenly everyone could participate in the new creator economy.
NFT projects, built from the ground up on Discord and other social media channels, brought like-minded people together and fueled exciting new opportunities for the distribution of the digital artworks these communities love and the flow of capital that comes with them. Digital illustrators and artists, whose art has spread across the internet over the past decade, have finally found a way to be recognized and properly rewarded for their work. The Web3 era, it seemed, would herald a new and fairer future for all.
NFTs have not solved the problems of the art world
But the development of the crypto art space was not just a success and justice story. The new creator economy emerged from the context that preceded it. No wonder, then, that some of the same issues of artist disenfranchisement, media optics, and financial obsession have carried over into today's NFT space.
Arguably the most notable example of this dynamic occurred when All Seeing Seneca, the main artist behind Bored Ape Yacht Club, accidentally discovered one day that NFTs from the project she had helped build were starting to accumulate for millions at a time to sell. The fact that Seneca has never seen fair compensation from a project now worth billions suggests that the decentralization and equity that projects like BAYC and others talk about may be less of a priority in this area than they are should be.
But properly rewarding artists for their work is just one aspect of the NFT space to analyze when comparing it to the traditional or contemporary art world.
Taking an honest look at the good and bad of the Web3 art space is critical to its sustainable future. So where are things? What remnants of the traditional art world do artists still have to manage on the Web3, and what has the space fortunately left behind?
The development of the art world
Numerous creators and collectors in the NFT space started with contemporary art. Such figures as Artwrld founders Nato Thompson and Josh Goldblum have had a place at the forefront of the blockchain-based revolution.
Thompson, an author, curator, and self-proclaimed builder of cultural infrastructure, has served as artistic director at Philadelphia Contemporary, Creative Time, and MASS MoCA. Goldblum is the founding director of Bluecadet, the Emmy award-winning digital agency that creates websites, mobile apps and interactive installations. Together and together with the Lebanese artist Walid Raad they created the Artwrld platform for contemporary artists to find a home in Web3 and NFTs.
"Big media follows the big money and big controversies in NFTs," Thompson said in an interview with nft. "That was the case in the art world, [and it] was always to his detriment. There are 770,000 manufacturers in the NFT space – and they all mention the Bored Ape Yacht Club. The nature of the media is still exactly the same."
Despite this, Thompson notes that many hierarchical and influence structures in the art ecosystem are likely to change completely. The analog art world, he says, is extraordinarily static, forcing people to navigate power structures that are difficult to access. Web3 and NFTs represent a pushback from this paradigm.
"I think there's a real opportunity in terms of engagement between artists and their communities if it's not mediated by the galleries, the museums or Facebook," Goldblum added in an interview with nft.
One of the best things about the NFT space, Goldblum and Thompson said, is that it's still largely in flux. This is in contrast to the traditional art world, where structures are fixed and gatekeepers come first. The two hope things stay fluid for some time to come as this overall atmosphere allows for more opportunities and greater freedom for everyone.
"The time when things aren't clear is the most exciting time," Thompson explained. "The coming digital world is being shaped now. These camps are now being formed. And they are made by people, not just systems. I think good movements are started by utopianism. But for some of us older folks, we can't help but remember Web2 and what became of it."
For Thompson, Web3 is a fantastic opportunity to create structures built on values ​​of diversity and equity, especially in a context where artists and communities can be "truly transglobal," he said. "These things are profound in a way that has never been seen in the history of the avant-garde."
Artists and institutions open themselves to Web3
But it's precisely the kind of ephemeral and amorphous space that Thompson fondly references that is preventing many contemporary artists from taking the plunge into Web3, according to Ronnie K. Pirovino, a noted collector and curator in both traditional and crypto -art room. The promise that the NFT space holds has yet to be realized.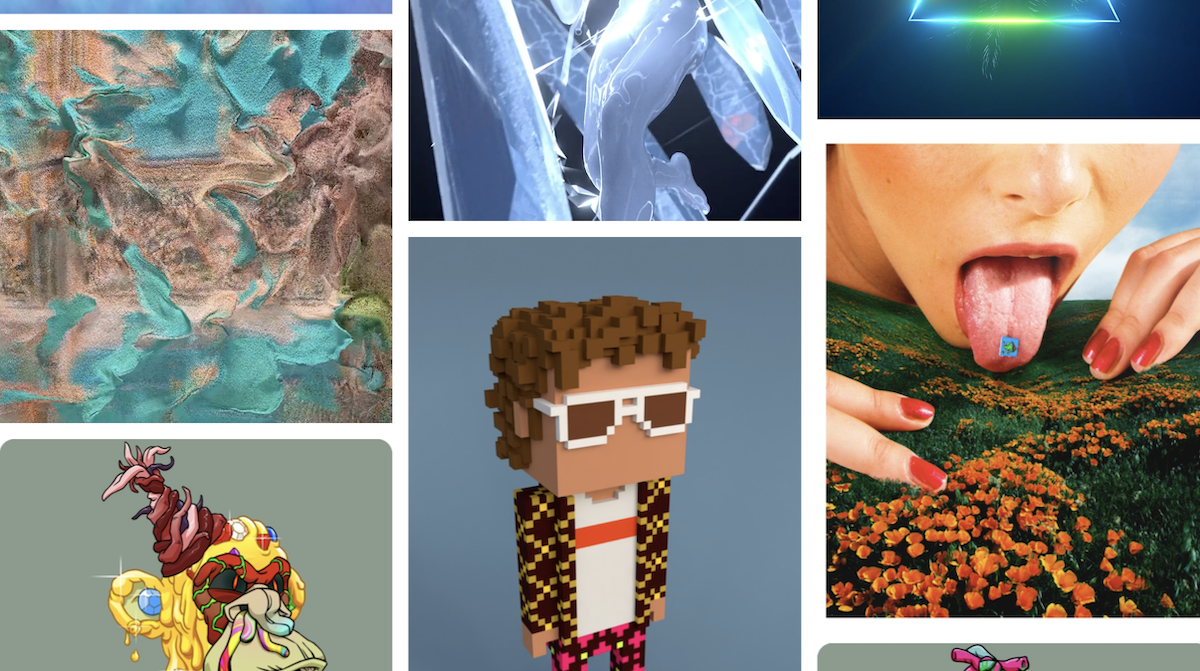 "I think that promise is largely unfulfilled because there are still a large number of artists from the contemporary art space who really need to figure out how they fit into this new space and how they can contribute," Pirovino explained in an interview with nf now. "Don't treat it like they shouldn't approach it because they don't understand it or feel it's past their time."
Pirovino, who curated Christie's first-ever on-chain NFT auction, says a fully realized vision of the NFT ecosystem will only emerge if non-Web3 native artists take the plunge. "As we see a greater number of contemporary art artists expand their practice into this new realm, we will begin to see the fulfillment of the promise [of NFTs]," he explained.
Ironically, the current bear market could help artists experiment with NFTs, Pirovino says, since the stakes are simply lower. When contemporary artists see the risk factor aligned with the creative rather than the financial, they can explore crypto art with more confidence.
"This space does not necessarily have to be inextricably linked to money," Pirovino said encouragingly. He also believes that the problem of projects or institutions exploiting artists could have a real solution.
"It's a concern. It's definitely a cause for concern," Pirovino admitted of exploitative practices that can occur. "However, I think people are becoming much more sophisticated in terms of all the dimensions surrounding space, so I think that's less of an issue. There are so many educational resources you can find to further your education. Like Twitter rooms where you could sit and listen to what's going on all day. And even if you've never heard of NFTs, you'll probably end up knowing quite a bit about what's happening in space."
When asked if he thinks most people in the NFT space are more interested in building long-term art collections or just being part of a community and making money, he remains upbeat.
"You definitely see very passionate collectors in this area who focus on certain people," Pirovino explained. "FVCKRENDER, for example, has a pretty loyal following. I'm starting to see very prominent collectors like 33nft, Pranksy, 888 and GMoney increasingly doing everything they can to collect the very best work. They have made it their mission to be definitive collectors in space. This is definitely a parallel to the contemporary art space. The same passion is there."
But the biggest hurdle for contemporary artists and collectors to experiment with NFTs, according to Pirovino, is the technical level involved in engaging with them. He believes that the Web3 community needs to take a more proactive stance in getting people excited about blockchain-based technology and making the process easier for them.
"Right now you are in danger," Pirovino said. "If you click the wrong thing, if you act too quickly on something – that's scary. And for an older person who is very interested in all of this, it absolutely prevents them from entering the room."
According to Pirovino, the critical question for the NFT community to ponder is simple: How simple does something have to be for mainstream adoption?