It was an exciting eight minutes that Austen Barron Bailly will not soon forget.
The setting: Sotheby's auction house in New York. The bidders: Ken Griffin, a billionaire hedge fund manager, against a group of 17,000 cryptocurrency enthusiasts from around the world. The prize: a rare first printing of the US Constitution.
"It was a thrill because it was so clear between these two bidders over the phone," recalls Bailly, who witnessed last November's auction. "The back and forth and back and forth and thinking about what it would mean if the US Constitution were owned by a private individual or this crypto collective was quite an interesting, prescient eight minutes. The auction is a form of theater in its own right."
Griffin, an art collector and founder of the Chicago-based hedge fund Citadel, won with a bid of $43.2 million, a record price for a document or book at auction. Sotheby's immediately announced that it would loan the Constitution to the Crystal Bridges Museum of American Art in Bentonville, Arkansas for public display.
The museum, which was founded by Walmart heiress Alice Walton and has about 4,000 works in its collection and is free to the public, made the constitution the focus of an exhibit, We the People: The Radical Notion of Democracy, which opened earlier this month was opened and runs until January 2nd.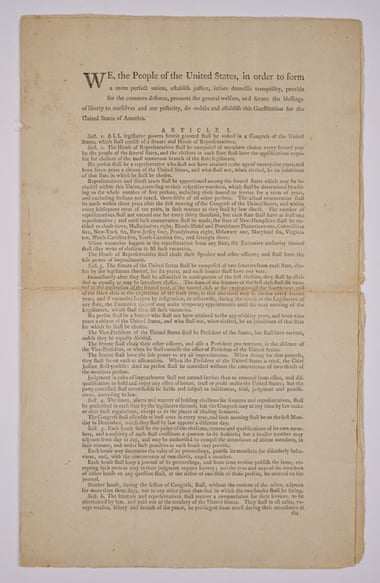 Bailly, the museum's chief curator, says: "The origins of this exhibition were very spontaneous. It was not intended to do an exhibition about the US Constitution.
"It was really a reaction to the moment of the idea that this rare version of an original official edition should have a new owner and there might be an opportunity to pair the document with artworks in a region of the country that hasn't already done so." times seen. It was opportunistic in the best sense."
The show could be said to bridge the gap between history and art, between the dead white men of Mount Rushmore and the vibrant community of artists who criticized America's imperfect union from the start. The rare print of the constitution — one of only 11 known worldwide, according to the museum — is placed in dialogue with works that shed a different light on the founding of the nation.
Organized by Native American art curator Polly Nordstrand, highlights include historical paintings such as John Lee Douglas Mathie's depiction of the Seneca leader Red Jacket and John Trumbull's portrait of Alexander Hamilton.
Original prints of other founding documents, including the Declaration of Independence, the Articles of Confederation, and the proposed Bill of Rights and Emancipation Proclamation, are juxtaposed with works by artists such as Shelley Niro, Roger Shimomura, Luis C. Garza, and Jacob Lawrence.
Bailly explains: "This collection of founding documents is truly unprecedented, and then through our collection and special loans we have the opportunity to put these words, principles and foundations into conversation with the visual iconography of democracy, portraits of indigenous leaders, portraits of founding fathers, Works from the 20th century by artists who document and interpret stories or imagine new futures.
"It's a diverse range of styles, mediums, approaches and perspectives, and that's really exciting. People can come to this show and see these artistic and political foundations for themselves."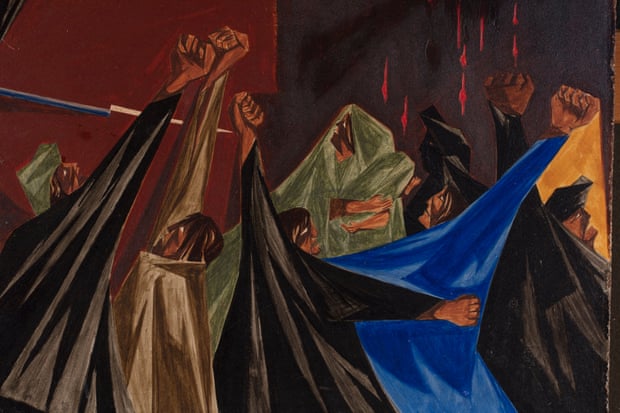 The show — augmented with educational and public programming, including panels, workshops, student tours, and teacher resources — comes at a time when history, like seemingly everything else in America, seems more dividing than uniting.
The New York Times' 1619 project reexamined the legacy of slavery, Lin-Manuel Miranda's musical Hamilton cast black actors as founding fathers, and the police killing of George Floyd prompted the removal of numerous Confederate statues.
There has been a predictable right-wing backlash. Go to the Project 1776 Political Action Committee (PAC) website and you'll be greeted with an invitation to "Report a school promoting critical race theory." The PAC claims it promotes "patriotism and pride in American history" as opposed to Marxist social engineering.
Bailly says, "We don't shy away from the complicated story and try to be very straightforward with facts and truths and these multiple perspectives. We have important works by artists of all persuasions in the exhibition. We also look at the ways in which the cycles of American history and the struggles to form a more perfect union are an abiding part of our nature as a nation.
"To me, one of the truest signs of patriotism is caring so much about your country, your principles, your documents, your foundations that you're willing to criticize them to make sure they're working. There are always different ways to tell a story. What's important is that there can be different tendencies or emphases within a story, but trying to find some sort of balance is very important to us."
Even the founding documents themselves, though sacred to many, are hardly beyond reproach. The Declaration of Independence's ringing phrase, "All men are created equal," makes no mention of women. The "three-fifths clause" of the constitution allowed enslaved people to be counted as three-fifths free citizens.
The chief curator adds: "What we find exceptional is the realization that writing the constitution is an imperfect document. We as a nation and artists and even the founders of the Constitution ourselves accept or acknowledge and work through these imperfections – so the changes, so the Bill of Rights, so the constant search for equality and justice.
"These documents are the pillars and cornerstones, mistakes and everything that guides us, and we can always come back to them. It is these principles and the supposed safeguards against abuse of power that we, the people, have a responsibility to uphold, defend and fight for when they are not upheld."

One of the most important aspects of such an exhibition is certainly the location. Donald Trump beat Joe Biden by more than 27 percentage points in the 2020 presidential election in Arkansas. Trump's former White House spokeswoman Sarah Sanders is poised to become governor of the state.
Arkansas borders the Red States of Missouri, Tennessee, Mississippi, Louisiana, Texas and Oklahoma. And in Bentonville, where Walmart was born and is headquartered, a Confederate monument stood for more than a century until its removal in 2020. All in all, it doesn't seem like the most fertile ground for a museum display depicting the heroic version of American history.
But Bailly comments: "What we want to do is to contextualize the conditions for making these documents: the people, the places. We want to create a people-centric approach so everyone who walks in, regardless of their views, finds a connection and potentially finds connections they hadn't thought of before.
"We don't dare try to indoctrinate or direct or say, 'You have to think like that.' But we want to provide historical and artistic evidence that allows people to inform their own thinking, ideas and perspectives. If they change, they change, if not, they don't change. But we want to create that space for discovery, creativity and engagement."