One enters The Holocaust: What Hate Can Do, the updated main exhibit at the Museum of Jewish Heritage in New York City, through a dark corridor. Yiddish and Hebrew songs are played, well-lit photos and bright video screens show moments of domestic life from the Jewish diaspora decades ago. Families from Germany, Poland, Latvia, the Netherlands, Greece, Iraq, Libya and elsewhere engage in lively and mundane activities. Then, on the wall, printed too large to ignore, the punchline: "Many of these Jews were murdered by April 1943."
"That was my idea," Professor Judy Tydor Baumel-Schwartz, one of the main historian-curators of the exhibition, tells me in a Zoom interview. "They wanted a map or something, and I said, 'No, we need something to hit you!'"
For Baumel-Schwartz, who has been teaching the Holocaust for 40 years, it is also personal. "That regal looking woman standing on a rug in front of a house? This is my great grandmother. And when my great-grandfather was deported from Romania to Transnistria, they wouldn't let him get his coat, so he grabbed this rug…which ended up going to my grandmother's little sister, and now it's in room eight of this exhibition."
How could one grapple with something as massive as the Holocaust other than with details? Indeed, the show, which occupies 12,000 feet over two stories in a modern building near Manhattan's Battery Park, runs with an unusual narrative. This first tunnel takes you straight into the nadir of Spring 1943.
We are reminded of the uprising and the destruction of the Warsaw Ghetto, the largest in Europe; we see a stone from the newly expanded crematoria of Auschwitz, the death factory responsible for the murder of 1 million Jews and 100,000 other victims; there are personal items (a boring-looking towel, like the kind you'd get in a motel today) that once belonged to Jews sent from Vilnius to die by gunfire in the Ponary massacre; and finally, images from the Bermuda Conference, where US and British delegates met to discuss what to do about the Jews facing genocide in Europe. (The answer was essentially to put it on the table for further discussion.)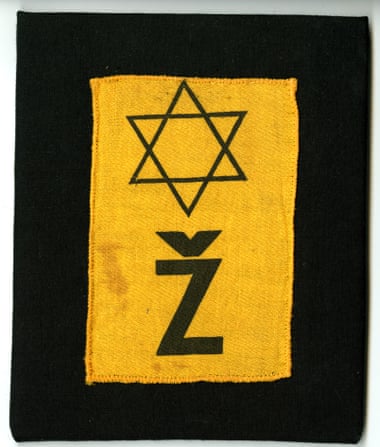 That double whammy before you've actually entered the main hall serves a purpose. How the hell did this madness start, you ask? The next room ("a nice room full of light," says Baumel-Schwartz) is one where there are no stupid questions: Who exactly are these Jews?
Given the reports that describe the poor understanding of the Holocaust among some Gen Z adults and Millennials, there is no harm in taking all of this from step one. This circular chamber addresses the core beliefs of the religion, its Middle Eastern origins, the differences between Ashkenazi and Sephardic groups, basic definitions of Hasidic, Conservative, Reformed, Reconstructive and other tribes of Judaism, and their customs and political beliefs that might differ. There are more similarities than differences. Purim's Purim.
"So once you know who these people are," Baumel-Schwartz guides me, "the next obvious question is, 'Why did everyone hate them?' [The Holocaust] was not a train that went off the tracks from 1933 to 1945. It was a train that made noise for hundreds of years."
This leads to a huge gallery full of relics of Jew hatred through the ages.
A timeline begins with the First Holy Crusades, describes the blood libel of 1194 at Norwich, explains the British expulsion in 1290 and delves into the Alhambra Decree of 1492. Under glass is a note from King Ferdinand of Spain to a local governor , who gives instructions on what to do with property confiscated from the Jews who had just thrown them out of the country. (I can assure you that the contributions were not charitable.)
There are covers of the rant The Protocols of the Elders of Zion in multiple languages, and while modernity creeps in, there are artifacts about Henry Ford, Father Charles Coughlin ("something of an old podcaster," said a fairly perceptive parent a teenager as I overheard) and a stunning birthday present for Herman Goering from Reynhard Heydrich: a 1551 proclamation urging Jews to "wear a yellow badge to distinguish themselves from gentle society."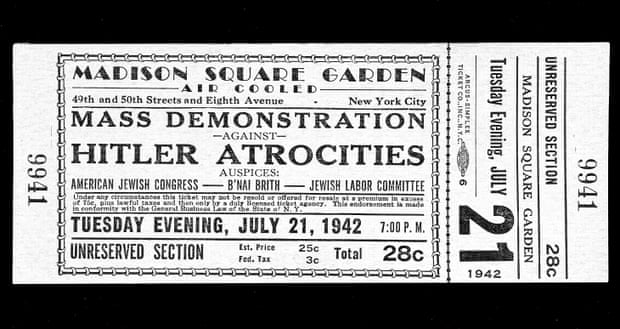 In the same case are a whistle and beer mug from this period with caricatured depictions of scheming, filthy Jews. "That is anti-Semitism," says Professor Baumel-Schwartz. "It's not a meeting where you hear about how terrible the Jews are. It's a small object that someone over the age of 16 drinks their beer out of at the end of the night. 'That's what a Jew is,' he thinks, 'this disgusting thing!'"
Next comes the Nazi rise to power and the Nuremberg Laws and the response of the occupied countries as their Jews faced restrictions and eventually deportation. (No nation, with the exception of Denmark, can hold its head too high here.)
The Holocaust is such a powerful story that the details linger here too. I was aware of two small footnotes because they touched on my experience. One was how a small but significant number of Jews had migrated to Shanghai as visas were not required there (my father has a letter from the camps where his grandfather spread this idea before he was killed in Auschwitz), and another learned of a German-language movie theater in New York City, where I live, that was showing Nazi propaganda as late as 1941. (It's a Dunkin' Donuts now.)
Professor Baumel-Schwartz points to a simple bowl used by a family of Libyan Jews (part of a community originally from Gibraltar who were deported to Italy) at a circumcision ceremony at the Bergen-Belson camp. "The Holocaust does not only affect Yiddish-speaking European Jews. There were Ladino speakers, Arabic speakers, it depended on luck where you lived at the time."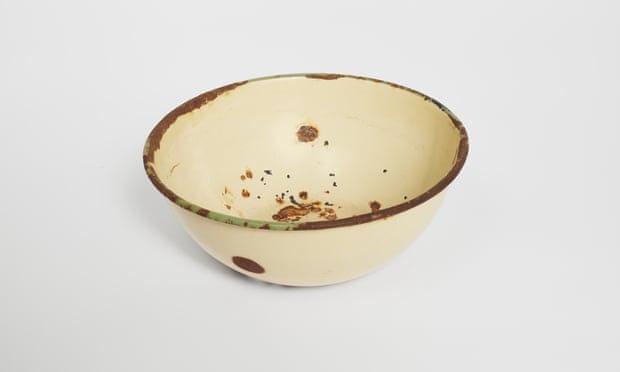 Taking the escalator to the second floor reveals the mechanics of mass murder – from the posh salons of the Wannasee Conference to the selection outside the gas chambers.
I was frustrated again at how aware the United States and the United Kingdom were of what was going on (see the Karski report, see the Riegner telegram) and basically shrugged. Headlines in American and British newspapers are given prime wall space in large type; People knew what was going on.
After the war, the US allows more immigrants, the United Nations is formed, and hundreds of thousands of Holocaust survivors find refuge in the ancestral homeland of the Jewish people and establish the State of Israel.
No matter where you are in this latest issue, I think everyone can agree that it's not gone smooth. Professor Baumel-Schwartz assures me that the specifics of running a large museum exhibition like this meant paring down the original designs in anticipation of a planned expansion. "A third floor," she says, "will continue this conversation and also discuss more contemporary anti-Semitism, which unfortunately is very relevant."
Saying that someone should voluntarily go to a Holocaust museum is strange. Usually one goes out out of guilt and this exhibition cannot really be described as fun. But it's thorough and clear, and fulfills the stated goal of explaining as best as possible how this atrocity happened. What is important is that a thoughtful person, without holding hands, reflects on current events, current prejudices, and questions about whether they are doing enough to stand up for justice. In this respect, a visit is essential.